Many riders are traveling on a motorcycle on every day basis and do not want to attend driving improvement training on circuit because:
» I have my ER- 5 or GS -500 what will I do at the track, there are only Superbikes !
» I am a master, I can lift the wheel !"
» Want to join but cannot pull myself together !
» I know everything and I ride 200 km/h on high way !
» There is nothing to do with 600 cc !
» More cc you got, faster you will drive!
» I am ashamed ...
All above beliefs are wrong! "Why?" It would take several pages to explain reasons. For receive all answers our club "MOTOAPLIS" invites to attend training sessions organized by the club on Bikernieki track. It can be useful when driving down the street and also can help in emergency situations.
Here is a brief summarizes the information that is required or prohibited and how to start to improve driving skills on circuits, or start to participate in road races.
Road race training to novice riders.
When you come for the first time, with or without prior knowledge, before registering for training, inform our team. Our instructor will check your motorcycle, technical condition of your equipment and will have an individual instruction to drive a motorcycle on a circuit. The first training is always going to be on karting track, where speeds are much smaller and instructor sees you well. During the training you will be given special attention.
Trainings usually takes place in good weather conditions, the asphalt pavement should be dry, but there are few exceptions. Before coming to track pay special attention to section ''road race trainings'' on our web site, where the training organizer provides updated information about trainings.
Street racers have different type organized trainings:
Individual trainings for street racers.
Training shall include participation of an instructor who will teach the theory of driving, as well as, if necessary, check the technical condition of the motorcycle. On each training there will be a small briefing, advice and training course, post-training discussion and answers to questions. If your instructor sees serious driving mistakes, you will be stopped and mistakes will be explained. Training generally takes place on Tuesdays and Thursdays on two tracks at same time - karting track and big track. To big track riders are allowed only with prior learning driving skills on karting track. Training will be assisted by the presence of a medical specialist and judges.
Training fee (karting track) - 10.00 €/h. Training fee (big track) - 18.00 €/h. Arrival time on tracks - 15 minutes before training begins.
T\Instructor accompanied training for street riders.
It usually consist of up to three groups corresponding to the rider's level of experience e.g. Novice / Intermediate / Advanced. One group at a time will then take to the track for up to 20 minute sessions. Each group has its own instructor. During the ride, the instructor shows how to ride and observes you driving. After each session instructor will explain mistakes and will answer to questions. Training is provided by the presence of a medical specialist. For calendar please follow www.motoaplis.lv.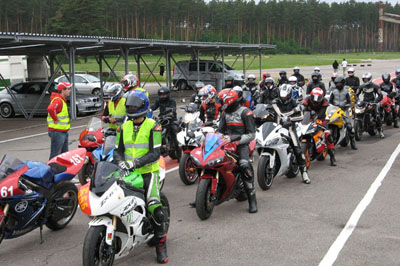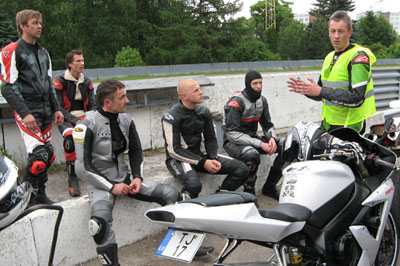 Track day.
A track day is an organized event where you are allowed to ride your own road bike or specially prepared track bike around safe motor racing circuits and away from public roads and without any form of speed restriction. In order to do a track day you will need a fully working and safe motorbike. You will also have to pay a fee to the organizer who will be holding the Track day on the race circuit.
How it works? There are various formats for the this, but they usually consist of up to three groups corresponding to the rider's level of experience e.g. Novice / Intermediate / Advanced. One group at a time will then take to the track for up to 20 minute sessions and these sessions will alternate throughout the day. Riders use their own motorbikes. Primarily track days are all about having fun on a closed racing circuit without speed limits which is also much safer than riding on the road and you can learn more about the capabilities of your bike and your riding. As motorbike performance increases, a track day can prove an invaluable means of improving your skills necessary to properly control your motorcycle at or nearing their full potential in relative safety. It is common feedback from track day riders that it helps them define the massive distinction between road and track riding/driving styles and as a result, through improved skill levels and attitudes, can have a positive impact on their road safety. Track days are invaluable learning experiences that can teach you more about your motorcycle and your riding abilities in one day compared to months of riding on the roads. So get out there and have fun. Most importantly remember it's not a race and try to respect other riders out there on the circuit. Training will be assisted by the presence of a medical specialist and judges.
Private trainings.
For more information please contact Dainis Linkis +371-29323030.
Necessary technical equipment.
» Street type of motorcycle.
» Good technical condition.
» Motorcycles with old or damaged tires on the track are not admitted.
» For your own safety motorcycle lights must be sealed with tape, rear –view mirrors must be removed or bent in and sealed with adhesive tape. Adhesive tape will be available at the track.
Equipment.
On the track riders are not admitted without safety equipment consisting of: leather suit with protective armor (the textile suit is allowed on karting track only), motor boots with covered ankle, motor gloves, helmet with a closed visor and chin part, back protector is highly recommended:
Contact.
motoaplis@motoaplis.lv
+371-29323030 (Dainis)